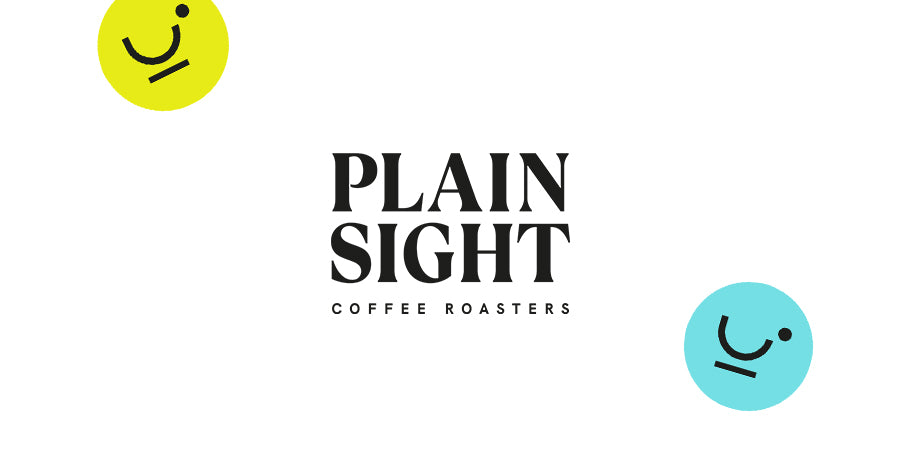 A Fresh Pour: Plain Sight's Reinvention
From when Plain Sight first started, founder Sean Lee had one thing on his mind: how to make specialty coffee as approachable as possible. Coming in at a time when more other specialty coffee roasters were also finding their footing in a still infant industry, even coining the name of Plain Sight was meant to evoke a straightforward attitude towards both the brand and the coffee.
2016, Plain Sight's first logo and packaging iteration
It's been almost 10 years since those early coffees, and now, Plain Sight is making big leaps forward in deciding what it wants to be for a new generation of coffee drinkers.
This is now coming in the form of a reinvention of Plain Sight's brand, in messaging and in impact. For Sean, this came about from specialty coffee brands, unintentionally or otherwise, projecting an air of exclusivity, which can be intimidating to aspiring coffee brewers. In stark contrast, Sean's vision for Plain Sight is to not just open the door, but remove it entirely.
Back to the humble beginnings of Sean's first cuppings, from when Plain Sight was then a one-man team.
While many businesses aim to capture the loyalty of an existing market, Sean's ambition is refreshingly disruptive. "Instead of trying to win the current market's approval, why not create a new market?" Sean posits. He believes that continuously catering to a core base isn't enough. To create an ever-expanding base, a shift in brand attitude is imperative, hence the decision to rebrand and reinvent.
2016, Plain Sight's coffee cart back then was more of a styled table setup.
Plain Sight entrusted this challenge to Paolo Salgado, Founder and Creative Director of Agape Design Studio. Paolo, with his team, embarked on this journey to redefine Plain Sight, ensuring the logo mirrored Sean's vision.

While Sean had crafted the original logo (humorously attributing it to his journey through an Adobe Illustrator tutorial series), Agape decided to refine it. Despite exploring various logo studies, there was an undeniable pull towards the original logo. "We kept coming back to the old logo," Paolo admits.
As Paolo delved deeper into the project, it became evident that Sean's distaste for exclusivity within the coffee market resonated deeply. This mutual aversion was a cornerstone as they looked to pivot Plain Sight from just another coffee brand to an encompassing lifestyle brand.

2018, Plain Sight's 2nd packaging iteration
The creative journey was distinctive for Paolo and his team. "We did not look at other coffee brands for this one to have no preconceived notions," he shared. Inspiration for Plain Sight's branding came from unexpected quarters, from fashion brands like Loewe and Balenciaga to a deliberate emphasis on non-coffee references. This uncharted approach to branding underscored the idea that "Plain Sight alone is the brand."

The culmination of this rebranding process is a product and identity that consumers would be eager to showcase, not just for its quality but for the ethos it stands for.

Back in 2019 when you could still count the fresh, unroasted coffee bag sacks on the floor.
The expansion isn't just philosophical. The brand is branching out to a wider range of offerings, from a plethora of coffee origins to future workshops and bar takeovers.
While Plain Sight once focused on being more behind-the-scenes, the brand is stepping into the limelight, ready to show the world its uniqueness.
Local collaborations and an emphasis on supporting local coffee producers have always been at the heart of Plain Sight. Sean reminisces about how the brand started with a 100% local coffee vision, and though challenges arose, the commitment to local products remains unwavering.

"I hope people see the vision and where the company's headed," Sean muses, expressing his desire for people to appreciate the work that has been poured into Plain Sight's evolution. As Plain Sight ventures into this next chapter, the brand remains grounded in its core values while embracing a future that promises both inclusion and a flair for trying new things.
Words by Ryan Uy