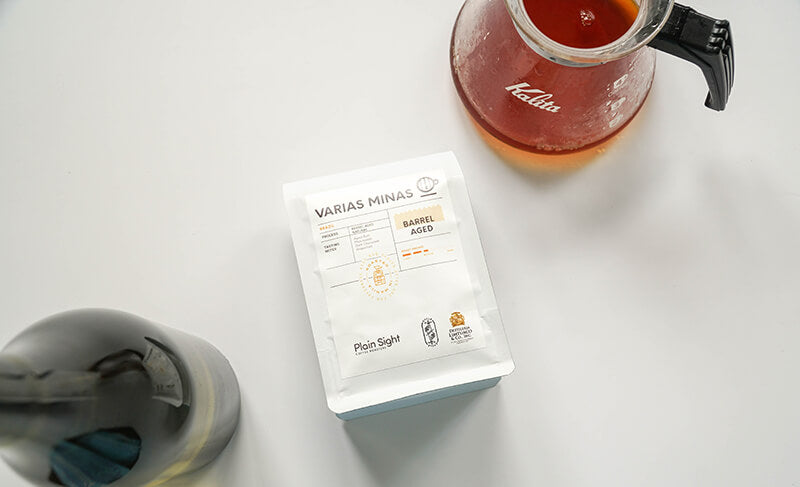 Blending In: Barrel Aged Varias Minas
When we released our first Barrel Aged coffee a few months back, the reception was quite something.
The excitement coming from trying something new lighted quite the fire in us and made us think of ways we could experiment with the Barrel Aging process. We looked at our current line-up of coffees and wondered which of them would play well and decided to try out the Varias Minas. 
Although we had also used a Brazilian coffee in the first release, the choice to go with the Varias Minas came down to how much more complexity we could bring out with both a longer ageing process and the choice of a Brazilian blend. When serving the Varias Minas as is, we were getting a lingering sweetness and notes of cherries, caramel, and dried fruit. After having it go through the ageing process, we got the the taste of aged rum, along with muscovado, dark chocolate, and grapefruit. This changing of notes really helps to give perspective on the complexity and layers of coffee. By exposing the coffee to the aged rum cask and letting just sit there, it was able to help unlock more flavors that we didn't find before the process. It's partly the same reason why you'll probably have seen different roasters try more complex coffee processing techniques.
There is so much more that we've yet to explore for this process. We've already been exposed to different cask types and have already tried to experiment ageing coffees in whisky and brandy casks. We're hoping to see these experiments bear fruit with another special and unique coffee that'll keep things interesting, but while we continue tinkering behind the scenes, feel free to enjoy our Barrel Aged Varias Minas as a pour over, cold brew, or even with a French press. If you're feeling contemplative, have it on the rocks and have it as a night cap. We'll surely make sure to raise a glass to you on that. 
Words by Ryan Uy  
Blending In is our series highlighting the stories of our blends