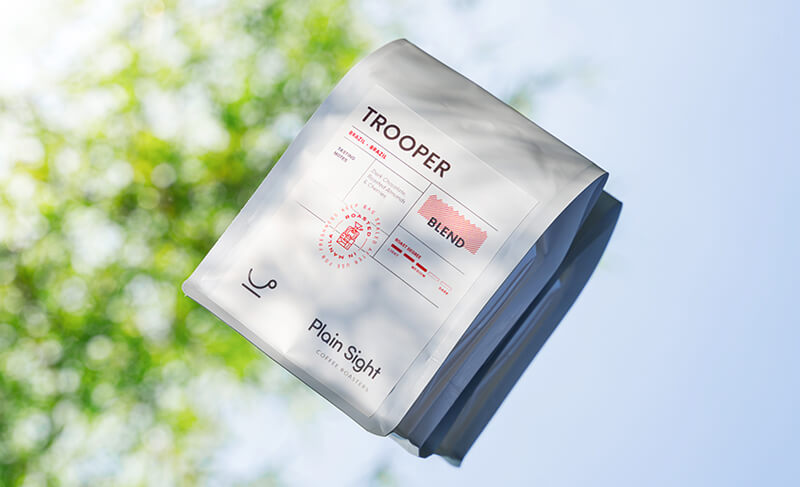 Blending In: Trooper
Coffee blends are often made for a particular flavor profile in mind. When we conceptualized Trooper, the idea was to put together the best of what we loved about Brazilian coffees into one easy-to-drink blend.
We also thought of how coffee drinkers would intend to enjoy it and thought of hustle and bustle coffee drinking scenes of New York and London, where a good cup of batch brewed coffee is what your everyday caffeine head will be looking for. With that in mind, we set out to try out putting together the Trooper.
The first part of getting it right was choosing how many coffees we'd be putting into the blend. After a bit of experimenting, we decided on three Brazils from different farms that helped to put together the key notes we wanted to bring out, which were chocolate, nuts, and just a hint of brightness. The end result was a versatile blend that could serve to be your everyday coffee. Have it as an espresso, mix it up with a splash of milk, or serve it up on your batch brewer or French press. 
It's been great fun putting the Trooper together, and it's convinced us that there may be more blends that people could be looking for to find a coffee with the right mix in the bag.
Already becoming a favorite among our regulars, we'll continue to share the Trooper with more coffee lovers on the hunt for something new. Whichever way you want to brew it, we're proud to send out the Trooper to you and hope it finds its place as your daily driver.
Blending In is our series highlighting the stories of our blends
Words by Ryan Uy
---