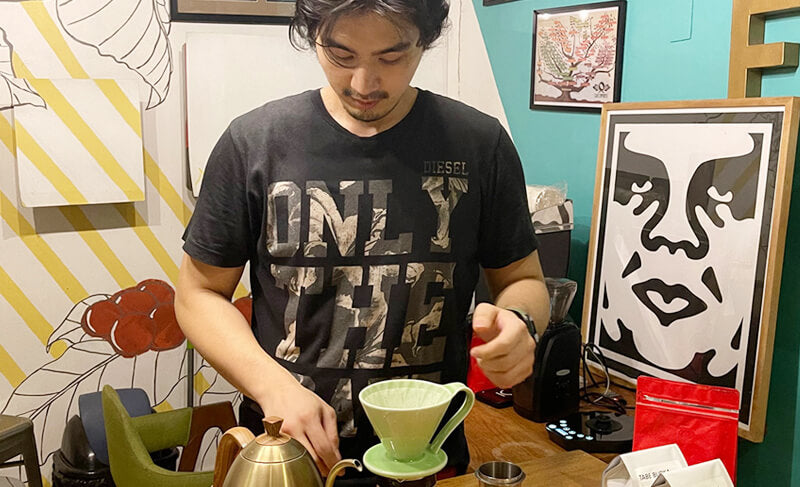 People in Plain Sight: Kurt Lee
When you ask someone how they ended up in the coffee business, it's not uncommon to hear that they may have already been long time coffee drinkers before falling into it. The catalyst of getting into the coffee business, however, is a different story. For Kurt Lee, being a long-time coffee drinker didn't necessarily lead him to the direction of joining Plain Sight, but a cortado served by a previous Philippine Barista champion triggered an interest in specialty coffee that's been keeping him busy since.
Kurt shares, "I was into regular coffees before, [drinking] Starbucks, 3-in-1, etc, then I got into specialty coffee. The first ever specialty coffee drink I had was a cortado from Craft Coffee [along] Broadway, prepared by Aldrin Lumaban. I was fascinated with the "geekiness" of specialty coffee - pair that my with deep interest in food and bev and flavors in general. The "cafe" vibe is also a big bonus'."
Although still in college at the time, Kurt decided to join Plain Sight because of his growing interest in specialty coffee. Initially roasting and helping with the day-to-day operations, Kurt now handles coffee production and logistics, handling quality control as well as research and development. Part of his responsibilities include studying different coffee roasting profiles, creating new blends and also ensuring consistency with the existing blends, and making sure that coffee orders get delivered to all manner of clients, from both the retail and wholesale side. A shared responsibility he has with other members of the team is identifying the kinds of coffees that can be served, whether its tasting coffees of varying origins, or understanding the latest developments in coffee processing, helping to bring coffees like the Barrel Aged Coffee collaboration with Distileria Limtuaco to fruition.
For Kurt, serving great coffee is a personal endeavor, sharing that the part of the reason he got into the coffee business is to be able to share great coffee to those around him. "One thing I enjoy the most is serving coffee to friends and family. Having something [that I] prepared and the person really enjoying it makes me happy".
With a renewed focus to bring even better coffees to the forefront, and with more people starting their home brewing journeys, Kurt's work has really only scratched the surface of being able to serve the best kinds of coffee sans its complications.
People in Plain Sight is our series profiling and introducing our team who brings specialty coffee to you.
Words by Ryan Uy